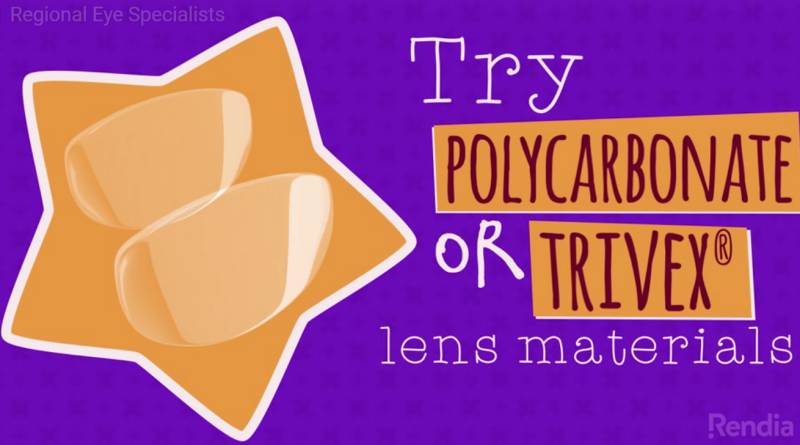 Optic Topic by Steven A. Queenan at Regional Eye Optical – Week of January 7, 2018
Active adults and children need a lens material for their eyeglasses, sunglasses, and sports eyewear that is highly impact-resistant. Both polycarbonate and Trivex lenses fit the bill while also being lighter and thinner than regular plastic lenses.
They also provide complete protection from the sun's harmful ultraviolet (UV) rays and are up to ten times more impact-resistant than plastic or glass lenses. Polycarbonate, which has been around since the 1970s, has been used for astronauts' helmet visors and space shuttle windshields.
Newer Trivex material offers the advantage of being cast molded, which means that it provides crisper optics than injection-molded polycarbonate lenses.
Regardless, both materials benefit from scratch-resistant and anti-reflective (AR) coatings. These lenses are up to 10 times more impact resistant than regular plastic lenses, making them an ideal choice for children's eyewear, safety glasses, and for anyone with an active lifestyle who wants a thinner, lighter, safer lens. Polycarbonate lenses are approximately 10% thinner than Trivex lenses, and Trivex lenses are about 10% lighter than polycarbonate lenses.
To learn more or to schedule an appointment, please call 320-587-6309. We are located just inside Regional Eye Center at 1455 Montreal Street, SE in Hutchinson, MN. Our business hours are:
Mon. & Thurs. 8:00am – 7:30pm
Tues. & Wed. 8:00am – 5:30pm
Fri. 8:00am – 4:00pm
Sat. 8:30am to Noon (Sep-May)
---