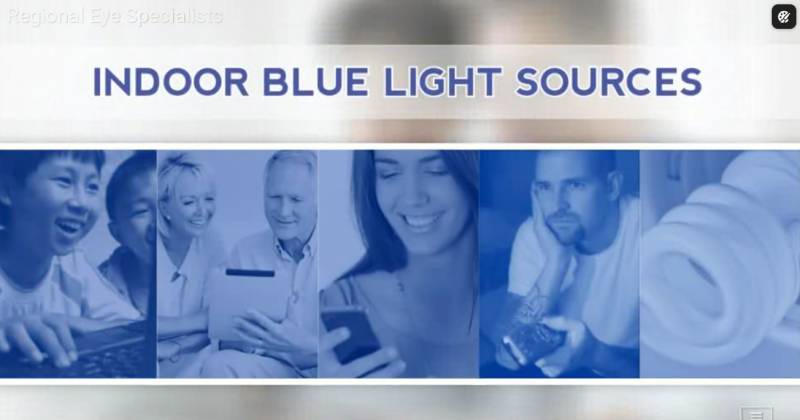 Optic Topic by Steven A. Queenan at Regional Eye Optical – Week of October 2, 2016
I just returned from The International Vision Expo 2016 held in Las Vegas. I have attended this convention several times, and one of the recurring themes of the past few years are the classes offered on Blue Light protection and how Blue light affects our eyes.
All of us have exposure to Blue Light, and some Blue Light is essential, while some Blue Light can have a negative affect on us. When I mention Blue Light, I am not referring to the color blue your eyes see when looking at things. The Blue Light I am referring to is the Blue Light from the Light Spectrum chart measured in nanometers.
This portion of light is not visible to the human eye. If you use a computer tablet, or use your cell phone for texting throughout the day, you should ask your eye-care professional about coatings or lenses designed to filter Blue Light.
The Opticians at REGIONAL EYE OPTICAL are well educated in products available to protect your eyes from Blue Light, Ultraviolet Light, glare reduction, etc. We will be happy to discuss how you use your eyes and what lens and filers best suit your needs. The Opticians will also be happy to help you select the proper frame for your needs from our large frame display.
To learn more, please call 320-587-6309. We are located just inside Regional Eye Center at 1455 Montreal Street, SE in Hutchinson, MN. Our business hours are:
Mon. & Thurs. 8:00am – 7:30pm
Tues. & Wed. 8:00am – 5:30pm
Fri. 8:00am – 4:00pm
Sat. 8:30am to Noon
---