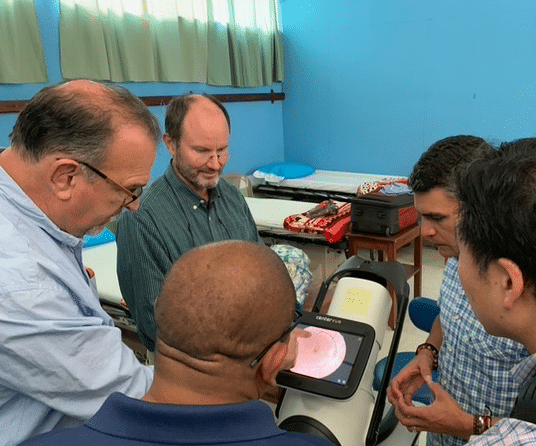 Dr. Christopher Wallyn and his team recently went on a surgical mission trip where they restored vision to a young man who was blind for many years.
After meeting in college, Drs. Christopher Wallyn and Michael Merck discovered a shared passion for serving those in need through mission trips. Since forming their practice (Regional Eye Center) in Hutchinson, Minnesota, the pair have traveled at least twice a year for 30 years to improve patients' vision in San Lucas Toliman, Guatemala. On each trip, they typically examine 100 people per visit and provide medical and surgical assistance to many of them.
During this most recent trip in November 2022, Dr. Wallyn's team met with a young man whose blindness had him bedridden for four years. During their examination, they found mature cataracts one would typically find in someone 80 years of age or older. They performed surgery to remove the cataracts, and to their amazement, the patient was able to see the faces of his mother and others in the hospital room the next day. He could see well enough to walk home with both eyes and without glasses. The man was so grateful after, in his words, "being trapped in his mind for more than 4 years."
Dr. Wallyn and Dr. Merck trained an eyecare health promoter and developed relationships with a local medical doctor to help their cause. Through the years, they have sent equipment to San Lucas where they developed a surgical presence. They founded The Foundation for Saving Sight in 2000 to formalize their mission efforts and to help create an eye clinic and surgery site in San Lucas Toliman.
For decades, Dr. Wallyn and Dr. Merck have provided eye surgeries on their mission trips. However, the COVID-19 epidemic forced them to halt their surgical trips until November 2022. It was on this trip that they changed a 27-year-old man's life. The young man had been blind for 4 years and he associated his blindness with a fight when he was 21 in which he was struck on the back of the head with a rock.
They plan to return to Guatemala in February of 2023 to begin the first treatment center for diabetic retinopathy in the Highlands of Guatemala.
---