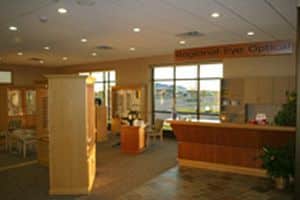 Optic Topic by Steven A. Queenan at Regional Eye Optical – Week of March 20, 2016
In order for prescription eyeglass lenses to fit properly and work effectively, it is essential to know the distance between the wearer's pupils so that the lenses optical centers line up directly in front of the pupils. Neglecting to perform this simple fitting procedure can result in less than optimum corrected vision. Matching pupils to the optical center of corrective lenses is particularly important for people with higher prescriptions, individuals bothered by small prescription errors, and those wearing special lenses such as "progressives." Failure to center the eyes of these wearers properly with respect to the lenses may result in headaches and eye fatigue. These potential problems can be avoided with a fitting by an experienced eye professional.
Despite the availability of contact lenses and vision correction surgery, eyeglasses are more popular today than ever. Advances in lenses and frame technology have given eyeglass wearers more choices. The opticians at REGIONAL EYE OPTICAL will explain what products and processes are available today and how they work to give you the best vision possible. For more information, please call 320-587-6309. We are located just inside Regional Eye Center at 1455 Montreal Street, SE in Hutchinson, MN.
P.S. If eyeglass frames are not fitted properly to the face, the bridge may slip down the nose and alter the alignment between the pupils and the optical centers of the lenses.
---